OUR expertise
PIM OPTIMIZER
Improve the quality of your product data and gain impressive flexibility with our PIM optimization tools.
The importance of data quality
There is no point in having data if they are incomplete or of poor quality

The Garbage in, Garbage Out principle
Optimize your data flexibly
What our PIM Optimizer can do for you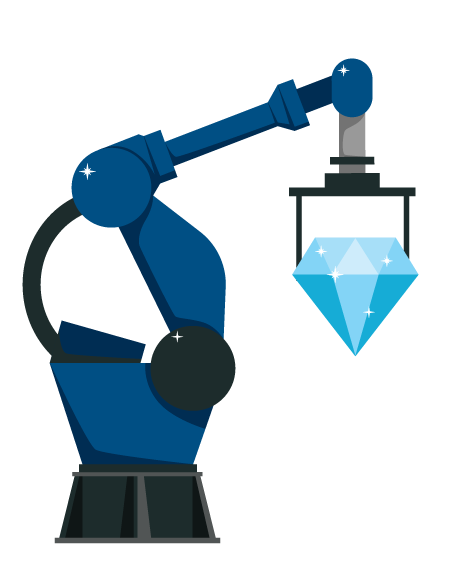 Data is a vital element of any eCommerce site. This aspect has long been neglected in favour of trendier topics like SEO and SEM. Fortunately, this is changing. More and more eCommerce sites are using PIM (1) to improve the quality of product pages and to meet the strict standards of product description content required by some countries.
Unfortunately, even with a PIM in place, eMerchandising teams are often frustrated that they still lack key information, and that they are not agile enough to add new data to the PIM easily.
The Prediggo PIM Optimizer is not intended to replace traditional PIMs. On the contrary, it enriches the data collected by the PIM in order to meet merchandising teams' needs more fully.
The main advantages of our PIM Optimizer technology
With us, increasing your data quality is easy, quick and effective.
Virtual Attributes
You can create new attributes in Prediggo based on various criteria, for instance:
Tagging a product list via an Excel import
Grouping together products that satisfy a set of semantic criteria and/or business KPIs
Extracting content from specific fields to make it into a new attribute
Prediggo's virtual attributes can then be used through the tool, for example to add new restrictions to a business rule, create a new facet on listing pages, create a boost in listing pages and much more.
Offer management
Reworking your catalogue offer by reassigning products to new categories or simply hiding certain products in a given category is easy with PIM Optimizer.
Offer management can be done globally across the whole site; but thanks to our centralized catalogue management, you can refine it from one country to another, including by store.
Interconnection
As a general rule, the data generated in the Prediggo PIM Optimizer are stored there. However, we can set up connectors so they go into your PIM. This will ensure that your PIM remains the nerve centre of your Information System.
We can implement connectors via a webservice or a simple CSV file in order to put this data into your PIM at regular intervals.
Landing Pages
It's very easy to create new event-based shops For example, you can create a new sales section, with various sub-shops such as products discounted by 10%, 20% and so on.
Prediggo landing pages are linked to our banner module so you can highlight them easily on your site. What's more, you can index them easily so they can be suggested by our search engine with the help of keywords.
Time management
Unlike a PIM, which creates persistent data over time, with Prediggo all new data created (virtual attributes, landing pages) have start and end dates.
This will allow you to plan your marketing operations with peace of mind, and also avoids cluttering up your eCommerce platform with hundreds of attributes as the years go by.
So you will be able to control what data you mobilize and when.
Interested in Prediggo ?
Contact us, we will answer you within 24 hours.